Liverpool Third football shirt 1988 - 1989
The Liverpool shirt sponsor from 1988 to 1989 was Candy.
Submitted by:
Anon

, Added to website on:

Submitted by: Anon, Added to website on: September 16, 2009

First of all, the story must start with a Hummel brand Aston Villa home shirt spanning for two seasons - 1987-1988 and 1988-1989. This shirt has a red / grey-stripped halves design.

Recall what kits we had in these two seasons: red home kit and grey change kit, same design template but different sponsorship logo - Candy took over Crownpaints as the shirt sponsor in season 1988-1989.

Stepping into the season 1988-1989, we still faced the problem of kit colour-clash with Aston Villa's home kit.

However, it was a fresh start of Candy sponsorship season and there was no predecessor white kits available like the Crownpaints era.

Under such circumstances, we couldn't wear the red Candy or grey Candy shirts. We also couldn't wear the same white Crownpaints shirt because of new sponsorship taking off.

Inevitably, Liverpool released a one-off white third shirt with Candy sponsor. This shirt was never released as replicas for sale.

Featured Steve Nicol wearing this 1988-1989 Third white Candy shirt in action.

To be exact, the 1988-1989 third white Candy shirt was only worn ONCE on 10 September 1988 against Aston Villa at Villa Park. As we can see, Peter Beardsley played as a substitute and replaced John Barnes in this match. And Peter Beardsley's shirt was a number 12.

Note that Alan Hansen was absent for most of this 1988-1989 season due to injury. He was only fit again to play lately in the Hillsborough F.A. Cup Semi Final on 15 April 1989.

More details can be seen here: http://www.liverpoolkits.com/liverpool1988tp.html
More examples of this shirt
Liverpool FC 1986 Away Retro Football Shirt 3RETRO Retro Replica shirt from 3Retro Football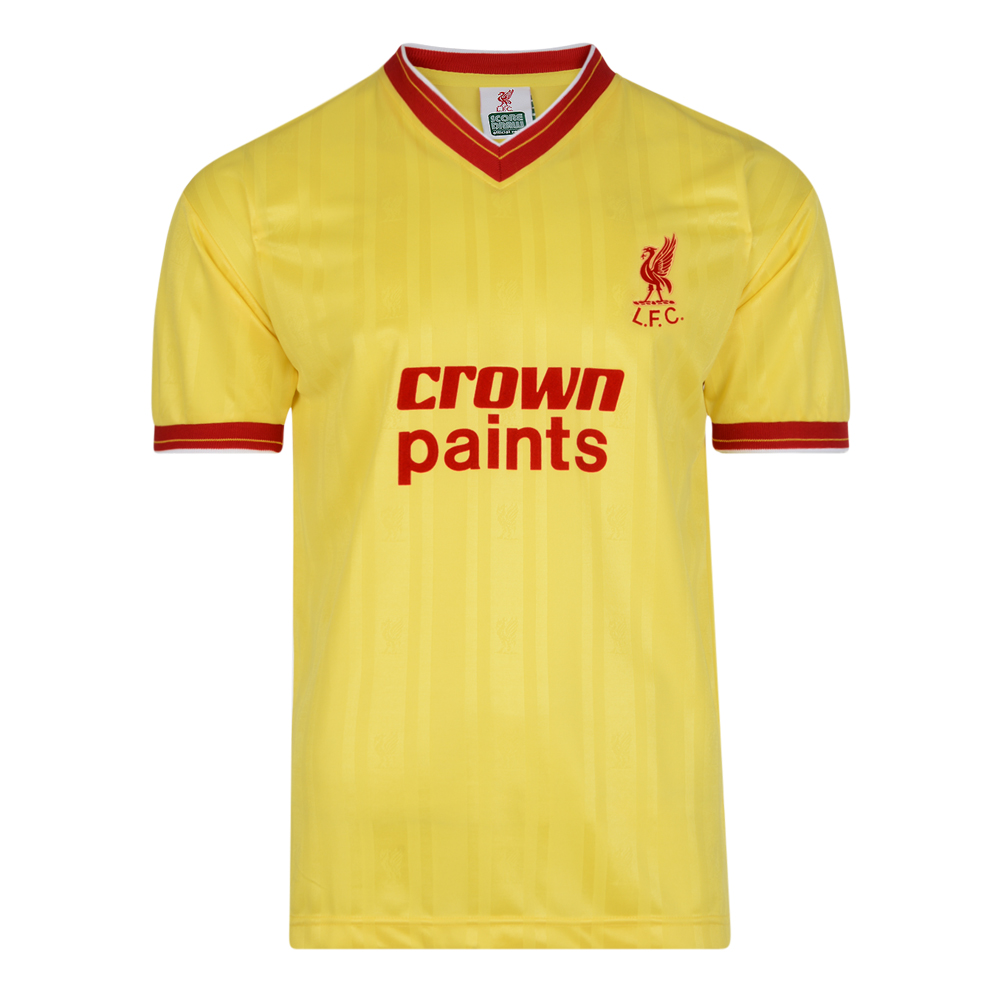 £30
1986
Liverpool FC 1986 Away Retro Football Shirt Worn in the 1985-86 season it would be Kenny Dalglish first as player/manager The club would go onto to win the double winning the League title and FA Cup Liverpool would beat their neighbours Everton 3-1 at Wembley Classic Liverpool Jersey
Available direct from 3Retro Football for just £30.
Back to the Liverpool shirts page
Liverpool football shirts for sale
For a great selection of shirts you can buy online right now visit our website dedicated to selling Liverpool shirts: