Enviado por:
Michael Yip

, Adicionado ao site em :

Enviado por: Michael Yip, Adicionado ao site em : Setembro 4, 2007

The round-neck collar shirts were used between 1968-1976, with several different variations. This 1975-1976 away player shirt is characterised by having a black transfer-film UMBRO motif ironed on the chest. Note that Liverpool FC did not release any replicas shirts prior to season 1977-1978. Thus, there exists no replicas for the round neck style shirts. This numbered 2 shirt belongs to Phil Neal.
Liverpool 1978 Away Hitachi Retro Football Shirt 3RETRO Retro Replica shirt from 3Retro Football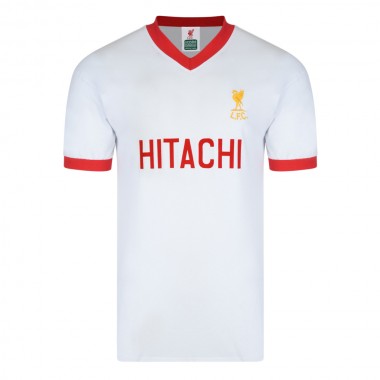 £25
1978
Liverpool FC 1978 Away Hitachi Retro Football Shirt Liverpool FC make english footballing history by becoming the first club to have a sponsor on its jersey Bob Paisley would lead the club to an 11th league title success Classic Liverpool Jersey
Available direct from 3Retro Football for just £25.
Volte para a página de camisas do(a) Liverpool
Liverpool football shirts for sale
For a great selection of shirts you can buy online right now visit our website dedicated to selling Liverpool shirts: