Liverpool Third חולצת כדורגל 1986 - 1987
The Liverpool shirt sponsor from 1986 to 1987 was Crown Paints.
הועלה על ידי:
Alan Hansen

, התווסף לאתר ב:

הועלה על ידי: Alan Hansen, התווסף לאתר ב: דצמבר 18, 2013

Liverpool 1986 Double Winners Shirt

See 300 more Liverpool shirts on facebook at

toomanyliverpoolshirts300andgoingup
עוד דוגמאות של החולצה הזו
הועלה על ידי: Michael Yip
התווסף לאתר ב: 3 יולי 2010

Liverpool 1985-1986 Third Player Shirt (rare single-lined Crownpaints with double winners stitching)

Liverpool released a yellow third shirt in year 1985 and it was only briefly worn in the two seasons 1985-1986 and 1986-1987. The spsonor logo was written on one line at first but it changed in the second season, written on two lines so it became larger (and easier to see on a TV screen). The Crown Paints did not feature on a single line past the end of the season 1985-1986 season, at the time of the 1986 FA Cup Final. However, this yellow shirt was produced for 1986-1987 season, the season after the Cup Final. Hence, this shirt must of been produced immediately after the Cup Final of 1986 and just prior to the decision to place the Crownpaints logo on two lines for the following 1986-1987 season.

For further details of this shirt, please view the following webpage:

http://www.liverpoolkits.com/liverpool1986dps.html

הועלה על ידי: Michael Yip
התווסף לאתר ב: 4 ספטמבר 2007

This yellow shirt was used as the third kit for season 1985-86 and 1986-87. The one that bears the special embroidery of Double Winners 1986 was only used in season 1986-87. No long sleeved replicas are ever produced.
89-91 Liverpool Home Retro GK Shirt Club Licensed Retro Replica shirt from SubsideSports.com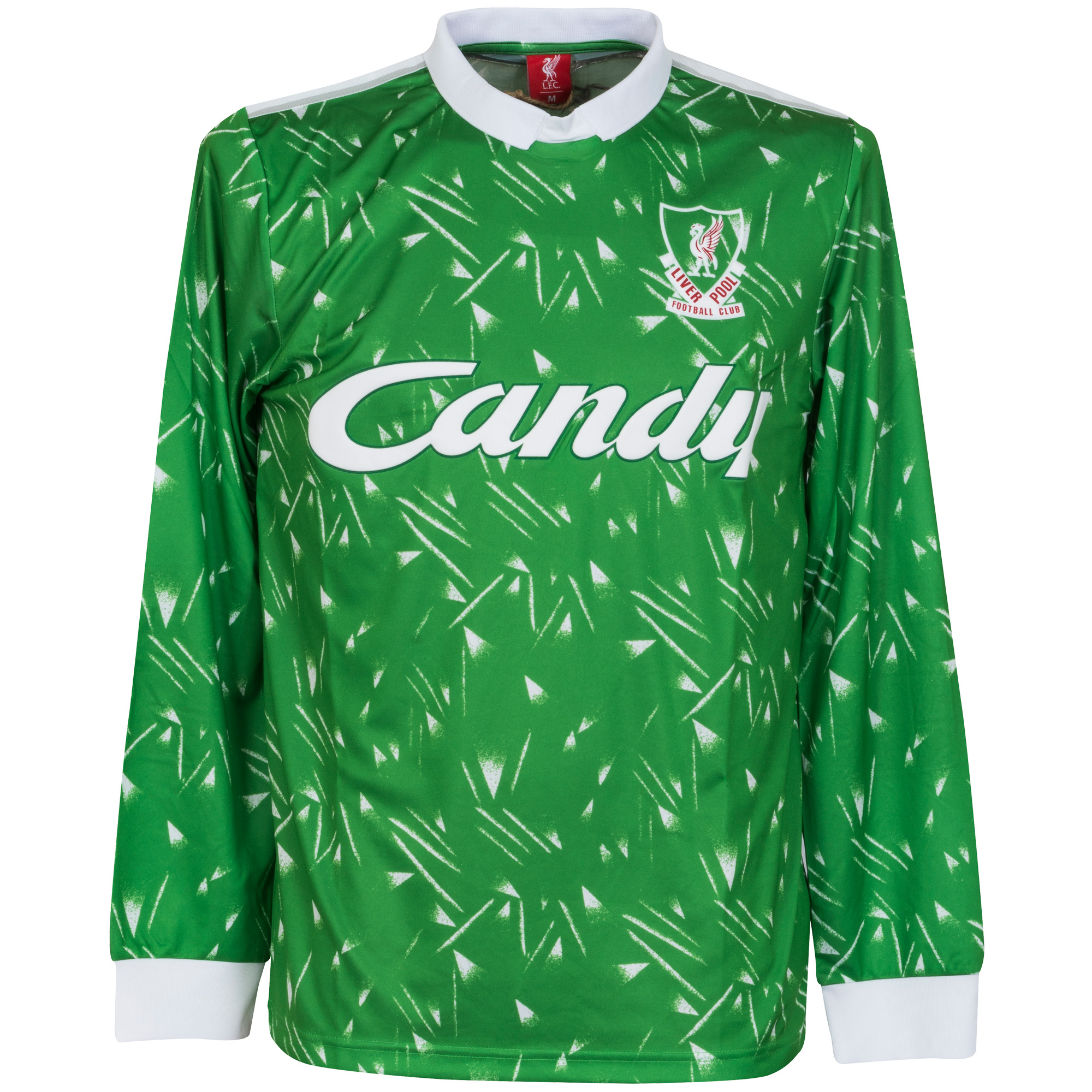 £39.99
1989/91
89-91 Liverpool Home Retro GK Shirt
Available direct from SubsideSports.com for just £39.99.
Liverpool football shirts for sale
For a great selection of shirts you can buy online right now visit our website dedicated to selling Liverpool shirts: